Posted On 04/24/2017 | Last Updates On 04/24/2017 | admin
Andy Zach Sighting at Her Majesty's Tea Room – 22% Book Discount Ensues!

First of all, thanks to all the Zombie Turkeys fans who showed up and got a 22% book discount at Her Majesty's Tea Room.  And a special thanks to those who signed up for the newsletter! Did you know I raffle off a free book every month to one of the newsletter subscribers? And, if you get your friends to sign up for the newsletter, you get an extra entry for each one!
Wait a Second Andy! What's This 22% Book Discount?
I'll cover the discount next.  My paperback book Zombie Turkeys retails at 12.95. When I sell my book at any author appearance, I discount it to $10. It makes making change easier.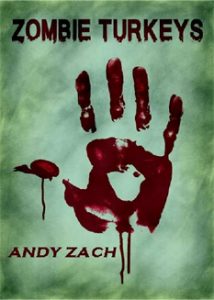 And then the books fly off the table!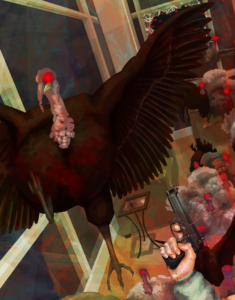 Who Else Was At Her Majesty's Tea Room?
I'm glad you asked!  At my table was Kim Kouski, author of
Kindle Edition

Auto-delivered wirelessly

---

Paperback

Get it by

Wednesday, Apr 26

Amazon's Kim Kouski Page

Howdy, my amazing geeks and non-geeks!! I am a writer and I've been writing since I was a child. I've always loved fantasy and decided to write something for teens that would reflect the shows and movies that I saw as a child. The ones with the handsome

More about Kim Kouski

Here's the proof I actually saw her, in her steampunk glory:
Then there were Jim and Rob Conover, brothers who write murder mysteries and paranormal detective novels respectively.

Next, across the aisle was Eryn Laplant, a romance author:

Then Caryl Macadoo was on the other side of the room. She won the award for the most published novels: nineteen. Ten were traditionally published and nine were self-published.

Next to her was John Spencer, a historic western author.

Then there was one more table I photographed, but I didn't get the author's name!  Shame on me!

Here's the next picture I have of Kim Kouski and the beauty of the table setting, courtesy of owner of Her Majesty's Tea Room and author, Jackie Gillam-Fairchild.

Finally, Jackie was kind enough to put up a post of a turkey for me outside her shop:

How You Can Get A 22% Book Discount
Simple! First contact me, Andy Zach on this link, or through my email jms61614-andyzach@yahoo.com. Then secondly, tell me where you want me to appear in your town. I'm making my schedule now.
Then when I show up, buy your paperback of Zombie Turkeys and My Undead Mother-in-law. This sequel, the second volume of my "Life After Life Chronicles", will be on sale in July 2017.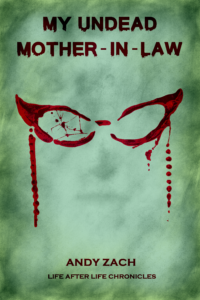 One Replies